Paris in three days
We propose this travel guide to visit Paris in three days where the most famous places were included and some recommendations do not waste a minute of time
We arrived to  Paris on train to the station of Paris Gare du Nord from London. We took a public transport ( Metro).Luckily the hotel was very close.
Before starting, I commented that there is an option for those who do not intend to walk: make a City Tour hop on-hop off, of which you can tour the main points of the city for one or two days. In Paris there are two very good companies: Big Bus and City Sigthseeing
  ☼ To Search Hotels, Fligts, Rent a Car, City Tours & Cruises Click Here
They see in Paris in 3 days : 

First day in Paris
Arc de Triomphe & 

Grand Palais
We will start our route at the Arc de Triomphe (Charles de Gaulle-Etoile metro:  lines 1, 2 and 6). We advise climbing to have a panoramic view of Paris. Once up, you can see the large avenues that start from here dividing the center of Paris, the financial district of La Defense and the famous Eiffel Tower.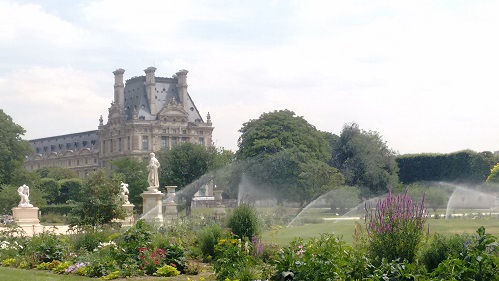 From the Arc de Triomf we will walk along the avenue of the Champs Elysees, towards the side of the Place de la Concorde.
Before reaching the end of the Champs Elysees we can see, on the right, the buildings of the Petit Palais and the Grand Palais, which host temporary exhibitions. more places of Paris, On the Place de la Concorde you can see an Obelisk of Egyptian origin. This square is famous for being the place of public executions in the guillotine, during the French Revolution
Place de la Concorde – 

Louvre Museum.

Crossing Place de la Concorde, you pass through the Jardines de Tuileries, what remains of the ancient palace of the Tuileries, disappeared during a fire. We drove in a straight line until we reached the Louvre Museum. Here we recommend to those who just want to see the most famous works (La Gioconda, of course) that ask at the counters for a quick guide. This is a brochure that indicates the locations of the 10 most famous works and the fastest and most organized way to see them all in a short time. For those who like more of this type of museums, we remind you that it is open until 9:00 p.m.
Opera Palace & 

Galeries Lafayette

And for those who toured the Louvre in two hours you can go out and take the Opera AV in the direction of the Opera Palace in Paris or also called Opera Garnier. You can make guided tours every hour with guides in English. A few blocks away (see map) are the famous Galeries Lafayette:
Where apart from being able to make purchases of luxury brands you can appreciate the Art Deco dome (see photos). In addition you can access the terrace where we will have another panoramic view of Paris.
☼ To Search Hotels, Fligts, Rent a Car, City Tours & Cruises Click Here
End of paris in three days first day
see  Paris Second day       Paris third day 
See  Travel guide Strasbourg France