Samsonite Rigid Suitcase S'Cure
Carry-On 20-Inch  –  Checked 28-Inch – Checked 30-Inch
The Luggage Samsonite S'Cure rigid suitcase is the best-selling model of the Samsonite brand and one of the best travel suitcases of 2023
This kind of suitcase is available in 4 sizes, for all types of trips. It is an airtight suitcase, without a zipper) and very resistant. It has a 3-point lock, security lock with password, 4 double wheels and a variety of colors and designs.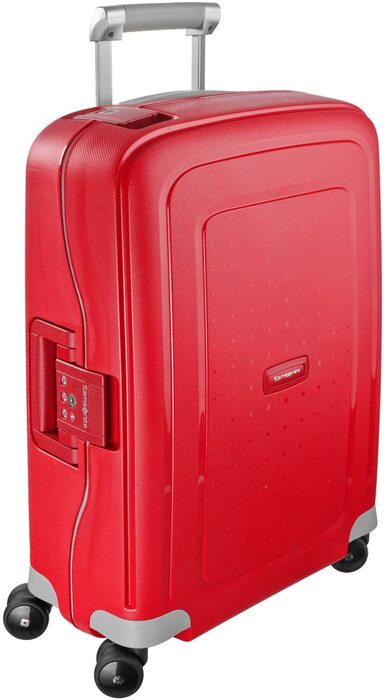 Measurements and Characteristics 
Dimensions:
Carry-On 20-Inch
Internal Dimensions
20 "Spinner 19.5 x 14.5 x 7.8,
Weight: 6.4 lbs.
Checked-Large 28-Inch
Internal Dimensions
28 "Spinner 28 x 18 x 11.5
Weight: 10.2 lbs
Checked-Large 30-Inch
Internal Dimensions
30 "Spinner 30 x 20.7 x 13.8, 11 lbs.
Weight: 11 lbs.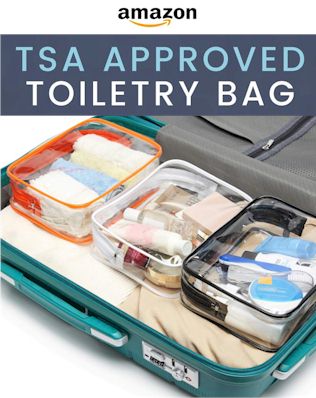 Warranty: Limited 5 year global warranty
Shell Material: HS Polypropylene

Suitcase type: rigid – spinner

Wheels: 4 (double)

Type of closure: 3 anchor points with mechanical actuator (without rack)

Security Lock: TSA Lock – provides luggage additional peace of mind when checking belongings, but can still be easily accessed by TSA agents in the event the case needs to be searched.

Transport handles: 1 top and 1 side

Handle: telescopic double tube and multiposition

Identification tag: Yes

Interior arrangement: 2 compartments, crossed fastening straps in one of them and side pocket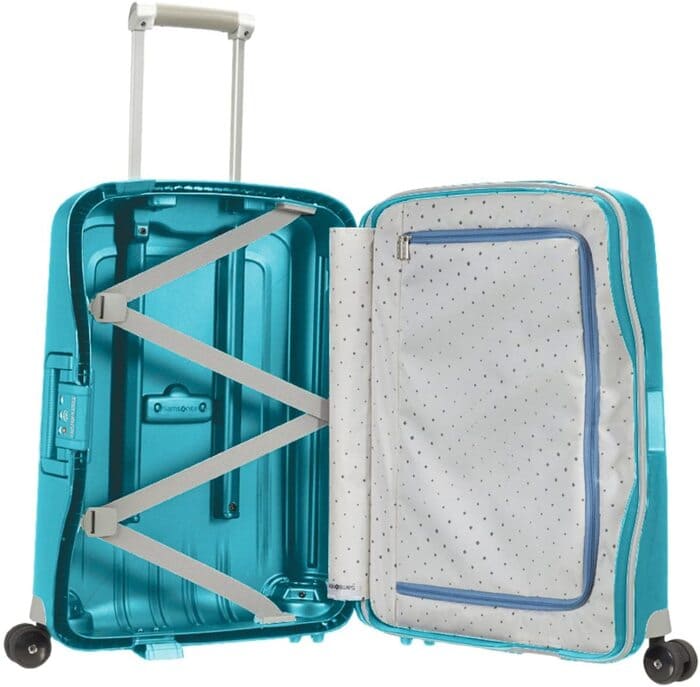 The S'Cure is one of the best models on the market. It is a luggage made of a polypropylene called FlowLiteTM, which is much lighter than other materials.
At the same time, it is strong, resistant to shocks and offers excellent protection for your objects, especially in the hold of the plane where they tend to suffer bumps and scratches.
Advantages
It has roomy compartments, fastening straps, zippers and pockets. The Damsonite S'Cure suitcase has a closure system that is superior in terms of security. It has a three-point lock that is tamper-proof and is protected with a suitable TSA security padlock.
This is so thanks to the pair of fixed handles, the removable handle that is adjusted to the ideal height for each user and the multidirectional and resistant double wheels.
All these details prevent you from making unnecessary efforts when dragging luggage or having a bad posture derived from the incorrect height of the handle. Thus, your trips will go smoothly.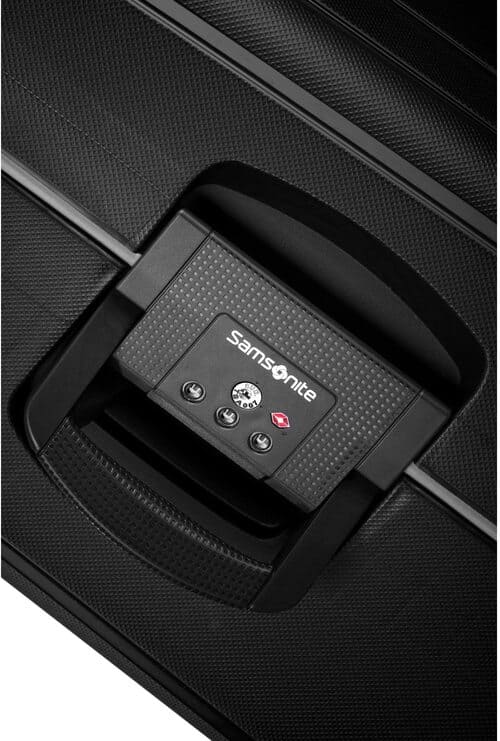 Samsonite S'Cure Transport 
It has 4 double wheels with a 360 ° multidirectional roll. The wheels are smooth, quiet and very easy to maneuver, no matter what surface you are traveling on at any moment.
It has two fixed handles: one on the top and one on one of the sides next to the lock. Both handles are made of very resistant materials. It has a handle or telescopic handle at the top. It is double tube and is made of very resistant aluminum.
It is adjustable at any height thanks to its locking and unlocking button located on the plastic handle. This provides great comfort when carrying luggage
Accessories of Samsonite S'Cure
One of the accessories it includes is its cross fastening strap and located on the inside, specifically in the lower compartment, which protects the order of your personal belongings and keeps them firm during the movements that may occur during the trip.
The luggage also comes with a zippered top separator pocket where you can store your important belongings. In addition, it has a space to indicate contact information in the event of a loss