Roman Empire: Routes & Network on Line Calculator
Land and Maritime
Stanford University has a calculator of sea and land routes, which existed in the Roman Empire. ( ORBIS) . The calculator has land routes, maritime coast and offshore, used during the Empire.
You can calculate the distance and the estimated time according to the season of the year. Also the cost of the transfer in denarii. Below are the examples
Roman Empire: Roads Calculator
Start of the application. With the marine and terrestrial routes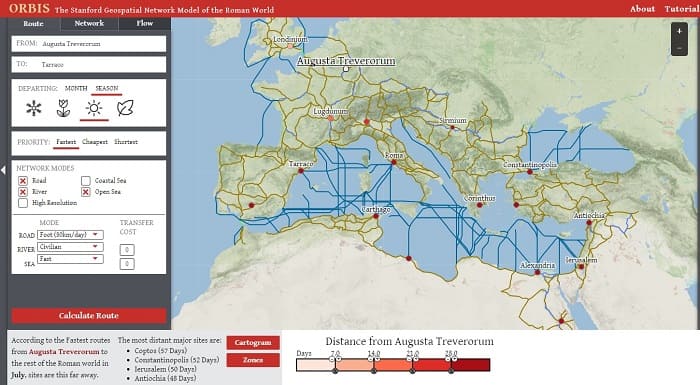 Choose the place of departure and destination
And press calculate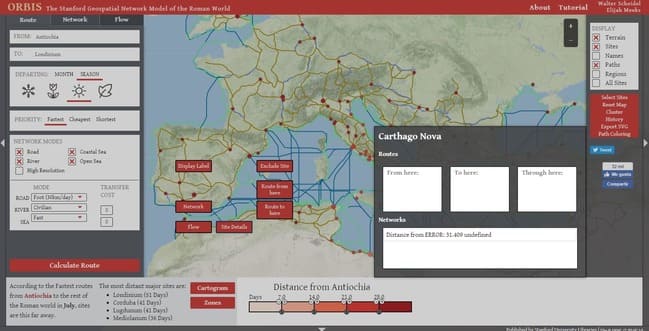 Londinium (London) to Coptos in Egypt
Long route ( Road & River) from Londinium (London) to Coptos in Egypt: The fastest trip from Londinium to Coptos in July takes 55.1 days, covering 6070 kilometers. Travel in Summer.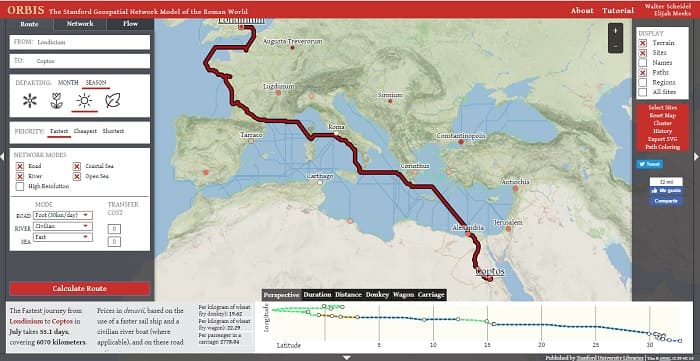 Costs in denarii
In Donkey : Per kilogram of wheat : 19.62
Per Wagon: Per kilogram of wheat : 22.29
Per passenger in a car: 2778.04
Cartago Nova to Rome
Cartago Nova ( Cartagena – Spain)  to Rome in July takes 11.3 days, covering 1.577 kilometers. Travel in Summer.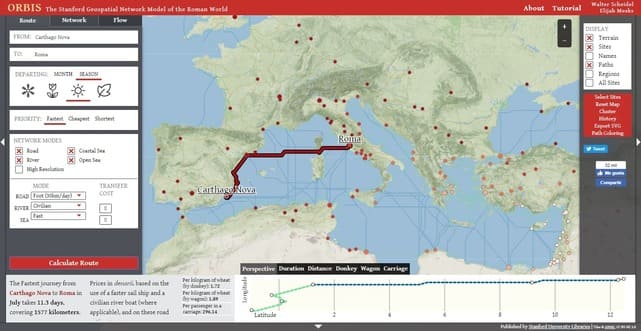 Same route as the previous one but in winter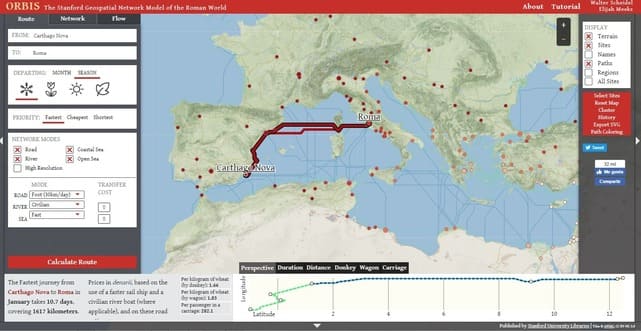 Londinium to Rome in Winter and Summer
Roman Empire: Roads Calculator:  from Londinium to Rome in winter and summer. According to the season of the year varies the marine and terrestrial route
29 days, 2.897 km, in summer.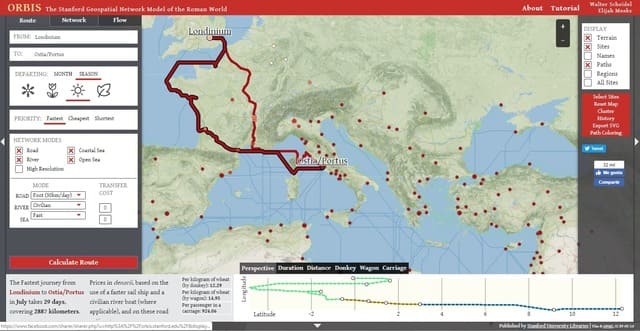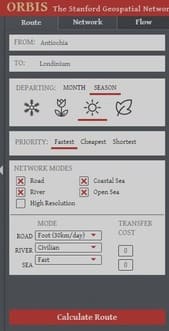 A Little History of Roman Roads
The Roman road was the road model used by Rome for the construction of its Empire. The road network was used by the army in the conquest of territories. Large forces could be mobilized with a speed never seen before.
He played a fundamental role in the economy because the transport of goods was significantly improved. The roads also had great influence in the diffusion of the new culture and in spreading the Romanization throughout the Empire.
The Itinerary of Antonino, of the 3rd century, is the written source that gives us more information about the Roman road network.
The roads united the cities of all points of the empire both military, turistic commercial or administrative.  The trips were easy and fast for the time, with an organization that favored a comfort for its users. Thought, in principle for military use, will be the origin of the economic expansion of the Empire. They also facilitated their fall, since the invading barca towns used them for the conquest of the empire
Related Post & References