Best Travel Power Bank 2023
This is a selection of the best Travel Power Banks to charge any electronic device during a trip. Smatphone, eReaders or any accessory that can be charged by USB port. There are available from 1,000 mAH to 85,000 mAH. 
7 Tips to choose a Travel Power Bank 2023
Price
We can find external batteries of great quality from US $ 20 to no more than 50-60 euros. Cheaper batteries usually have a capacity of 10,000 mAh, enough to charge an iPhone up to 3 times. While the most powerful batteries have up to 85,000 mAh load.
Capacity
All the models in our list have a minimum capacity of 10,000 mAh to be able to charge the mobile phone at least 3 times. The most powerful batteries, + - 26,000 mAh allow to charge our mobile at least 8 times
Power Bank For Women
Portable Charger, BONAI 20000mAh Power Bank, Aluminum Polymer External Battery Pack, 4.0A Max Input 4-Port Output Compatible with iPhone X XS Max XR 8 7 6s Plus Galaxy S8 S7+ Note 8 -Rose Gold. See more travel gadgets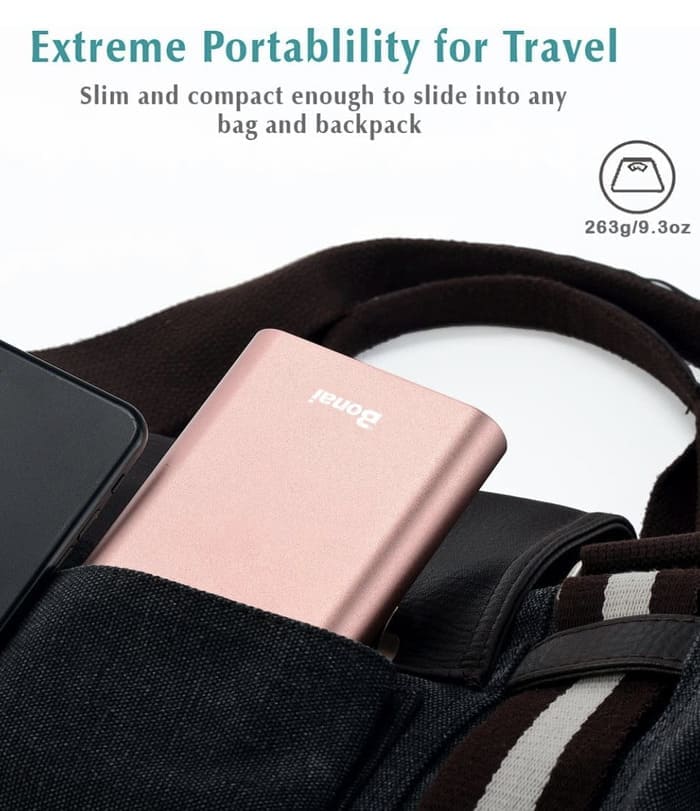 Weight and size
Again, the weight and size are linked to the load capacity of the external battery. lighter batteries can weigh less than 10 oz (250 grams) with very small dimensions that make us not realize that we are carrying them. The most powerful external batteries usually have a weight of around 20 Oz (500 grams)
Security 
Verify that the models have the latest advances in security:
Protection against overheating

Overcurrent protection

Overvoltage protection

Protection against short circuits
Portable Charger
Power Bank 25800mAh
Ultra-High Capacity Fast Phone Charging with Newest Intelligent Controlling IC, 2 USB Ports External Cell Phone Battery Pack for iPhone,Samsung Android,Table etc - Digital Paper eInk
Departure ports
Most of the best Trip Power bank have at least 2 output ports to be able to charge two devices at the same time. Some chargers have up to 5 output ports between USB, lightning, micro USB ...
Ports of entry
The vast majority of chargers have a single input port to charge the external battery from the electric current. However, there are chargers that have 2 input ports reducing by half the charging time of the external battery if you have 2 cables.
Warranty time
All models have at least 1 year warranty by the manufacturer. The vast majority have 18 months and some of them have a lifetime guarantee!
Check if an external battery is suitable for air travel
The regulation specifies that the nominal capacity must be less than 100 Wh (Watt-Hour). That is to say: any power bank with a capacity lower than 27000 mAh (at 3.7V) is apt to be carried on an airplane as carry-on luggage.  - See the TSA regulations -
How is the nominal capacity calculated in Wh?
Normally, the Travel power bank specification sheet usually indicates its nominal capacity in Ah and Wh but, if you can not find it, you can calculate it for yourself:
As you already know, a power bank consists of a set of lithium-ion batteries of a certain capacity and a voltage between 3.6 Volts 3.8 Volts.
To know the nominal capacity in Watt-hour (Wh) you must multiply the total capacity of the power bank indicated in mAh by this voltage and divide by 1000:
Rated capacity (Wh) = (mAh x V) / 1000
For example: An external battery with a capacity of 20000 mAh and a voltage of 3.7V, the nominal capacity will be:
Rated capacity = (20000 mAh x 3.7V) / 1000 = 74 Wh <100 Wh