Kindle PaperWhite
Kindle Paperwhite Essentials Bundle including Kindle Paperwhite - Wifi, Ad-Supported, Amazon Leather Cover, and Power Adapter
 BOOX Nova 2 7.8 ePaper eInk Tablet
Android 9.0 Front Light Dual Touch USB OTG E-Reader
Enable Google Play - Click Settings -> Application -> Enable Google Play, then activate Google Play. Video: https://youtu.be/QL7tF8cIfKE

7.8-inch high-resolution 300ppi flush E Ink screen offers sharper and crispier text, just like reading on printed books.

The compact and sleek design lets you hold Nova2 in one hand and take it with you wherever you go.

Adjustable warm and white lights let you read anytime and anywhere.

USB-C with OTG support allows the external flash driver or hard driver attached for holding hundreds of thousands of books, comics, notes, and audible books.
BOOX Note Pro 10.3 E-Reader
Front Light, 4 G 64 G Support Upgrade to Android 9.0 Soon
Dual Touch: Both finger touch + stylus touch

Front Light: With the color temperature system, the front light can be adjustable in warm or cold that allows reading in the dark and day.

Android System: Android 6.0 eReader with 1.6G of Quad-core, 4GB of RAM and 64GB of storage, is compatible with tons of third-party apps.

Pressure sensitivity: The Wacom stylus with 4096 levels pressure sensitivity is capable of showing stroke in strong or weak, just like a real pen
Likebook Mars E-Reader, 7.8' Carta Touch Screen,300PPI, 8Core Processor,Adjustable Built-in Warm/Cold Light, Built-in Audible, Support Google Play Store, Android 8.1
Sony DPT-CP1/B 10" Digital Paper
Thin, lightweight design, Approximately 8.5 oz. (240 grams -dpt-cp1)
10.3" (diagonal) high contrast display; 1404 x 1872 dots
Low-glare display for comfortable, long term reading
Paper-like texture for precise writing.Computer-based Charging - Approx. 5.5 hours. Battery Life with Wi-Fi On - Approx. 1 week. Battery Life with Wi-Fi Off - Approx. 3 weeks. AC Adaptor based Charging - Approx. 3.5 hours
Digital paper application (PC/Mac) to transfer documents and notes.Wi-fi: IEEE 802.11a/b/g/n/ac MIMO
Ensure the device is fully charged. Press the reset button at the top of the device.
Included Components: Digital Paper, Quick Start Guide, Stylus, Stylus Tips, Tip Puller, Usb Cable (1.5M), Warranty Cards
 SONY DPT RP1  Digital Paper - eInk 
Electronic ink is a particular type of screen
World's thinnest, lightest letter-size tablet device: as thin as 30 sheets of paper; Wireless Security: WPA2-PSK (AES), 802.1x EAP (TLS/PEAP)

Projected capacitive touchscreen allows for "pencil or pen style" writing and erasing with provided stylus.

Easy drag & drop transfer of documents via USB or wireless (Wi-Fi or Bluetooth) with Digital Paper app installed on your PC or Mac.

High contrast and no glare, so text can be read clearly even in bright sunlight. Battery Life with Wi-Fi On Up to 1 week.Frequency Band 2.4 GHz, 5 GHz Bluetooth: Bluetooth specification Ver4.2

Rechargeable lithium-ion battery provides up to three weeks use on a single charge. 16GB internal memory provides storage for approximately 10,000 PDF files.
Digital Notepad Paper Tablet - 10.3"
MobiScribe 6'8 E-Ink Tablet Bundle - 6.8 Digital Notepad, Anti Glare Screen, Touch Screen Display, Adjustable Built in Warm/Cold Light, Low Power Consumption, WiFi, Android
Paper Tablet - 10.3" Digital Notepad
The screen is a capacitive touch-control menu and a WACOM screen (with 4096 degrees of pressure sensitivity). Allows for precise stylus control. 

Anti-glare screen is viewable from all angles.

Adjustable front light with WARM and COOL settings.

One full charge on this long-lasting battery runs the MobiScribe for a WHOLE one WEEK.

This technology combined can determine where you place your palm while you write to ensure no unintended marks during writing or drawing.

Comes loaded with creative document templates (lined, music, graph, dot, and more!). Mobiscribe Box: Includes MobiScribe, Stylus, Cover, 3x Stylus Tips and Tweezer, USB cable. Quick Start Guide with Warranty
Likebook Mars E-Reader, 7.8' Carta Touch Screen,300PPI, 8Core Processor,Adjustable Built-in Warm/Cold Light, Built-in Audible, Support Google Play Store, Android 8.1
Kindle Kids Edition - eReaders 2021
Includes access to thousands of books - Rainbow Birds Cover
Stories kids love to read
With 1 year of Amazon FreeTime Unlimited, your child has access to books over a wide range of reading levels, including these top titles. Even more books are available in the Kindle Store
From timeless classics like The Boxcar Children, to popular series like Harry Potter, Kindle Kids Edition has the books that will inspire a love of reading.
Click here to learn how to add books to your child's profile.
Kindle Paperwhite Waterproof

IPX8
More than 2x the Storage
Waterproof device, so you can read and relax on the beach, in the pool or in the bathroom.
This version of Kindle Paperwhite is classified as IPX8 to protect against accidental immersion in up to two meters of fresh water for up to 60 minutes.

Storage in two versions: 8 GB. Or 32 GB to save more magazines, comics and audiobooks.

Now it's Audible. Ae combined with headphones or Bluetooth speakers to hear your story


With a single battery charge it lasts for weeks, not hours.

The built-in adjustable light allows you to read indoors and outdoors, day and night.
eReaders 2021 - 2021: NOOK GlowLight 3 
Barnes & Noble eReader - 6" Model - New - 8GB
Display 6", E Ink Carta Plus, 16 shades of grey, contrast ratio 14:1, 1072 × 1448 pixels, capacitive Multi-touch screen and the SNOW Field function

Lighting MOON Light+, Processor 4-core, 1.2 GHz, RAM 1 GMB, Internal memory 8 GB

Operating system Android 4.4 Expansion slot for micro SD/microSDHC cards supporting memory cards up to 32 GB, USB interfacemicroUSB, Wi-Fi IEEE 802.11 b/g/n

Supported file Text: TXT, HTML, RTF, FB2, FB2.zip, MOBI, CHM, PDB, DOC, DOCX, PRC, EPUB Graphic: JPG, PNG, GIF, BMP Others: PDF, DjVu
Likebook Alita E-Reader, 10.3" eLink - New! - 
Mobius Flexible HD Screen, Dual Touch, Hand Writing, Built-in Cold/Warm Light, Built-in Audible, Android 6.0, Octa Core Processor, 4GB+32GB
Professional PDF reader : Support multiple mainstream formats in market, Excellent PDF reading experience , 16-level Black&white contrast, Support PDF handwritten annotations, Read and remember at the same time to make a deeper impression, Support Blackening rearrangement , De-watermarking
Kindle Oasis 2021 eReader for Left Handers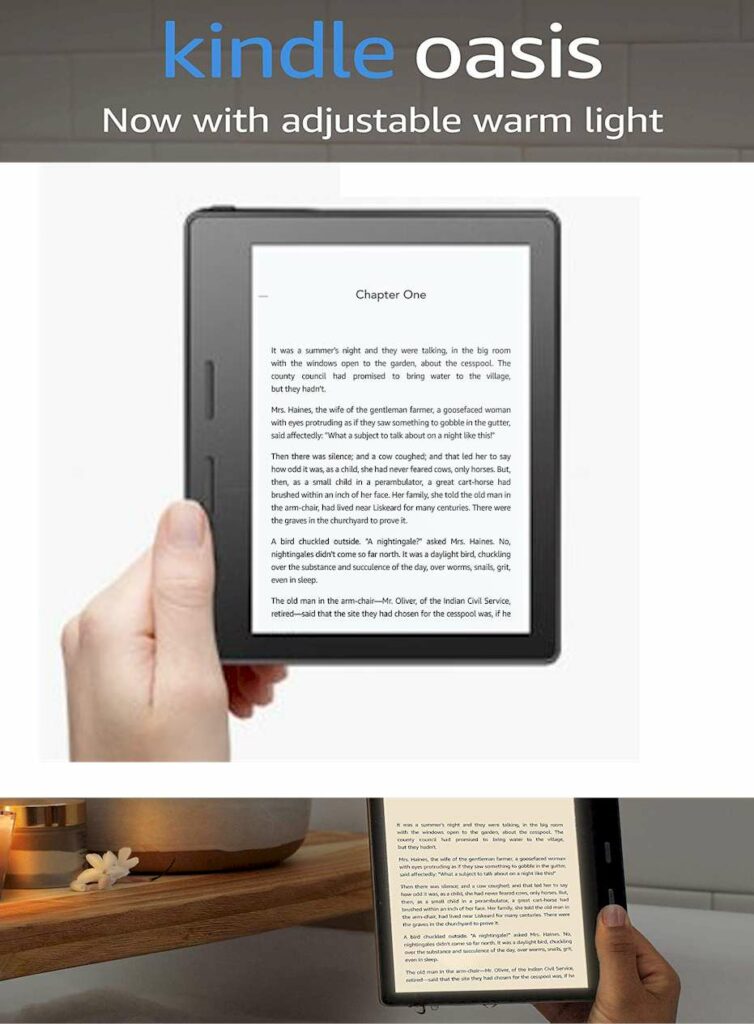 BOOX Max3 13.3 e-Reader ePaper Android 9.0
Fingerprint Recognition, 5GHz WiFi, OTG Capacity
Enable Google Play 

Powerful CPU: Octa-core 2.0GHz Processor offers high speed and top-rated performance with energy-efficient computing.

OTG Capacity: Mass extended storage supports SD cards, even physical keyboards and mice. Plug and Play

Tablet Screen Size: Retain 13.3" high-resolution flexible E Ink display, a perfect fit for PDF document reading
Learn More About  Waterproof Kindle Paperwhite or Kindle Oasis
High resolution screen : The Kindle Paperwhite has a high-resolution 300 dpi display that offers crisp text with print quality. Exclusive reading source that has been designed to be read on digital displays. No reflections even in broad daylight. Unlike tablet and smartphone screens, which reflect light, the Kindle Paperwhite reads like paper. 
More Info
end post eReaders 2019 -2020
Related Post