Airelles Château de Versailles: Suite Necker
This suite is located in the Hotel Airelles Château de Versailles Le Grand Contrôle – France. Former private apartment of Jacques Necker, Controller General of Finances and last Prime Minister of Louis XVI. He was arguably the most popular minister, and his wife is credited with the Hospital for Sick Children that bears his name. The imposing bedroom, with its 4.20 meters high ceiling, its Versailles parquet floor and its four-poster bed, offers a unique experience. The breathtaking view of the Orangerie parterre, the Swiss Water Piece and the Palace of Versailles make the place magical. The spacious bathroom offers lovely views and has a bathtub, a walk-in shower and two separate sinks. The suite also benefits from two separate toilets.
120  m2 / 1292 pi2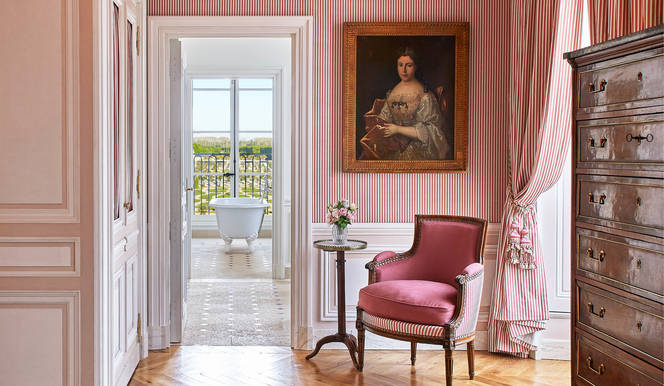 Featuring a freestanding bathtub of dreams, guests will enjoy breathtaking views over the lush Orangery Garden and the Palace from their bathroom. With triple aspect views, this light filled suite is a must for experiencing Le Grand Contrôle in all of its 18th-century splendour.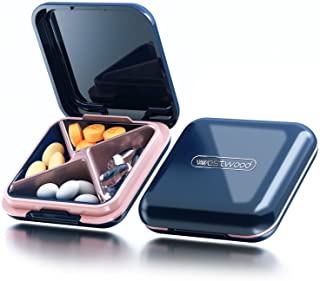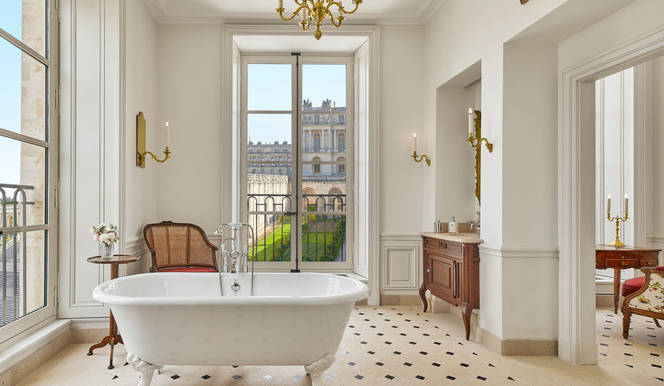 Designed for two, the grandest suite at Le Grand Controle boasts four metre high ceilings, and an impressive 120m² layout, perfect for those wanting to relive the lavish Palace lifestyle.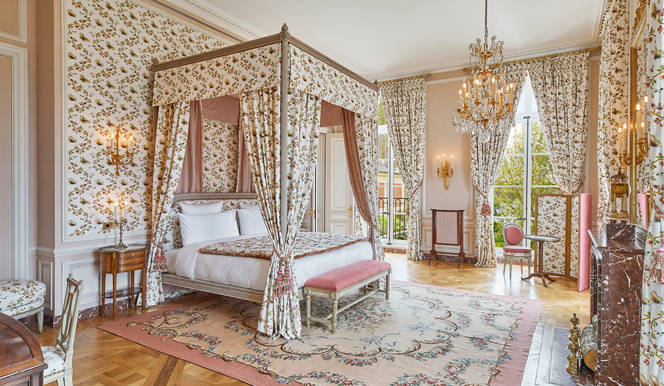 Surface area : 120 m²
Capacity : 2 people
Amenities : Period fireplace, four-poster bed, 1 bathroom (bathtub and shower) with view (2 single sinks, 1 on the right and 1 on the left), 2 separate toilets (single sink in each), floor: Versailles parquet, ceiling height: 4.10 m.
Others Suites in Château de Versailles, Le Grand Contrôle
Suite Paul de Beauvilliers, Duke of Beauvilliers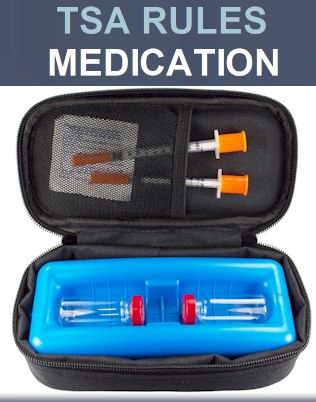 Services included : To ensure a memorable trip, every stay at Le Grand Controle will unlock a host of exclusive benefits and privileged access to Château de Versailles and its grounds:
– exclusive tour of the Estate of Trianon
– explore a different part of the Palace 'after hours' every evening with a complimentary private tour. Along with access to the main areas of the Palace of Versailles, your guide will also reveal previously unseen spaces
Perfect for exploring, guests will also receive unlimited complimentary access to electric golf carts and electric boats. For those keen to keep up with fitness goals, private yoga and fitness classes are available on request whilst full access to the Valmont Spa allows for royal relaxation.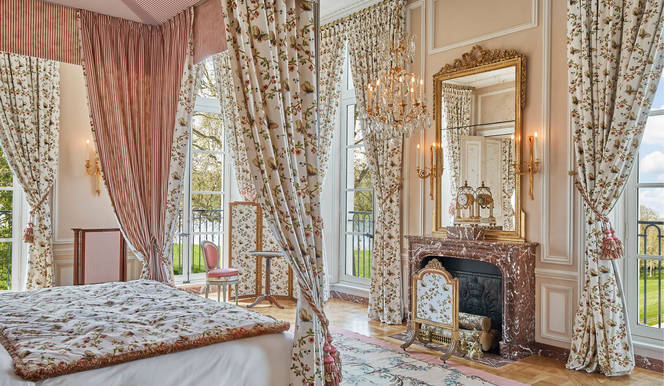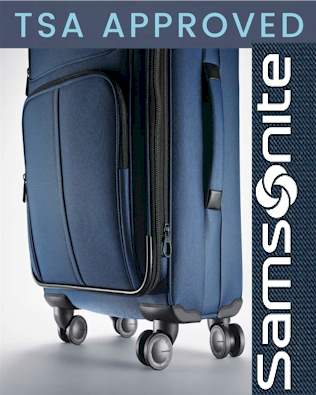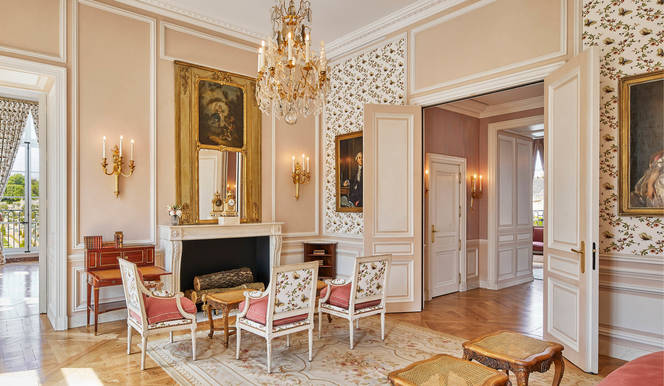 With Versailles parquet flooring throughout and a magnificent four-poster bed, guests will also benefit from a generous living room space.