What is TSA Precheck? ( TSA Pre✓®) Benefits
What is TSA Precheck? : TSA Pre✓® is a pre-screening process that allows passengers belonging to one of the Department of Homeland Security (DHS) Trusted Traveler Programs to pass through security screening points easily, quickly and efficient.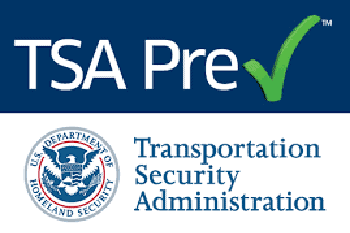 With TSA Pre✓® on your boarding pass, there is no need to remove your shoes, belt, or jacket at expedited security checkpoints in the United States. Liquids and laptops remain in your carry-on luggage. With a TSA Pre✓® boarding pass, children under 12 traveling with you will also receive TSA Pre✓®.
TSA PreCheck™ Benefits
No need to remove shoes, laptops, 3-1-1 liquids,

Expedited security screening. Most travelers get through Security in 5 minutes or less.

No need to remove  belts or light jackets

Enjoy benefits at more than 200 airports within the U.S on over 60 participating airlines.
Children under 12 may accompany a parent/guardian with TSA Pre✓® in the designated lanes.
Airports & Airlines
TSA PreCheck™ is currently available at more than 200 airports with 73 participating airlines nationwide. Eligible passengers can learn where by selecting a state or by entering airport information below.
*The coronavirus pandemic is impacting airlines and airports. We encourage you to check with your airline before each flight for the most up-to-date information.
TSA Pre✓® Participating Airlines
American Airlines

Air France

Swiss International Air Lines

What is TSA Precheck?  Related Post