Yogi Bear and Yellowstone National Park History
This is a post related to the character Yogi Bear and his friend Boo-Boo. Looking for information we found a post from the National Park Service that we thought was unbeatable. So we transcribe it as is.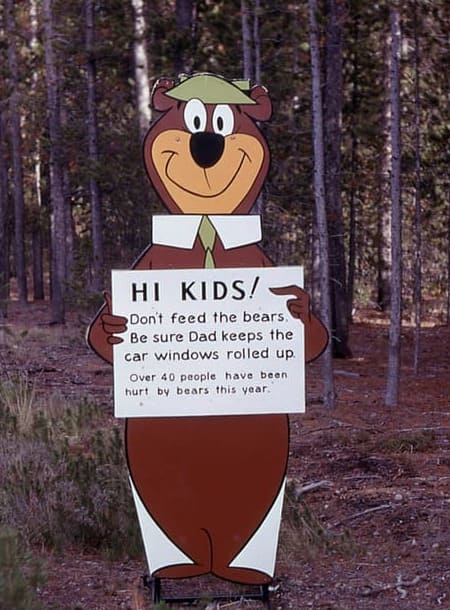 ---
Hey Boo-Boo: Yogi Bear and Yellowstone
Yogi Bear, the iconic Hanna-Barbera character has always been associated with Yellowstone. His home of Jellystone National Park is full of similarities to Yellowstone, such as the iconic Old Faceful geyser of Jellystone. Although Yogi and Boo-Boo were peaceful characters, Yogi's schemes to steal picnic baskets and other food from visitors to Jellystone were representative of real problems faced by visitors to Yellowstone and other national parks. Hilarious and lovable, Yogi Bear made the perfect choice for a visitor education mascot for Yellowstone.
Yellowstone Superintendent Garrison first wrote to Yogi Bear in December of 1960. In his letter to Yogi, Garrison complemented the bear on his success, and invited him to think of Yellowstone as a second home considering its similarities to Jellystone. Superintendent Garrison also wrote to Yogi about some of the troubling behavior of the bears in the park at that time. He extended to both Yogi and Boo-Boo a permanent pass to the park as well as a certificate thanking them for their efforts to educate the public about bears. This letter began a relationship between Yellowstone and Superintendent Garrison and Hanna-Barbera and Yogi Bear.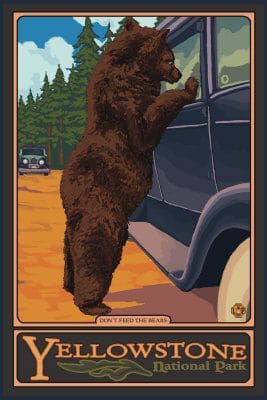 Yogi Bear & Kellog's
Over the next two years, Superintendent Garrison would receive a response from Yogi Bear as well as trade numerous letters with William Hanna and other members of Hanna-Barbera Productions. In one of Yogi's letters to the Superintendent, Yogi informed him that a short visit from Hanna and Barbera would have to do, as "I am not in the habit of letting these boys shirk their duties around the studio, and it would spoil them if I let them have more than two or three days off at a crack." Garrison even received a letter from the vice-president of Kellog's, Yogi's sponsor at the time. In his letter, vice-president Olmstead wished Superintendent Garrison good luck with the coming season with a joke about Jellystone and Yellowstone's similarities.
Hanna-Barbera agreed to produce bear education pamphlets and signs for park non-commercial use. The park set about writing and creating handouts to give to park visitors detailing bear safety measures. The pamphlets reminded people to not leave food in their cars, keep their windows rolled up, and properly store their food when camping. Hanna-Barbera and Kellog's agreed to produce standing signs as well. These cut-outs of Yogi Bear were placed at the entrances to the park. Visitors in the sixties were greeted by Yogi Bear himself, holding signs reminding visitors to be safe in the park.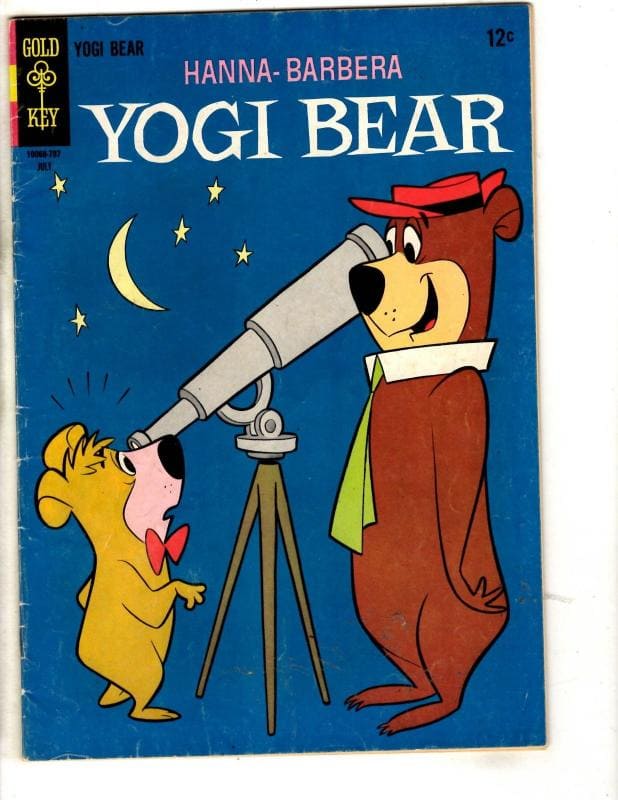 Yogi Bear and his pal Boo-Boo
Yogi Bear and his pal Boo-Boo will always be connected to Yellowstone through their history and in the hearts of visitors. Hikers in the park are told to make noise and call out while hiking through forested areas and around blind corners to avoid startling bears and giving bears the opportunity to move away from them. Some just talk to one another, some call out nonsense or yell "Hey Bear!"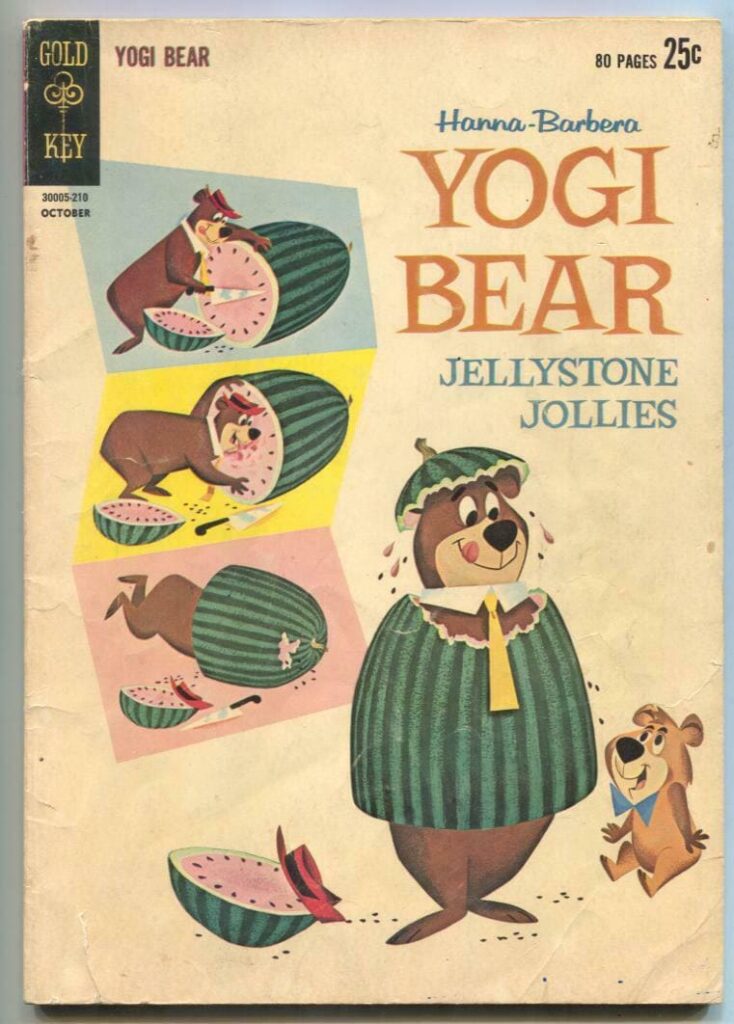 The familiarity of Yogi Bear made him effective for such a campaign, but he was also used by members of the public to criticize park policies. Yogi had always been associated with Yellowstone, and the use of Yogi's image in the park had cemented that relationship. He came to represent to the public ALL the bears in Yellowstone. The public's love of Yogi Bear led to great public involvement when the park began to alter its bear management policies. When the Park began installing bear safe trash cans and dumpsters in the park, many people were concerned that the bears would starve.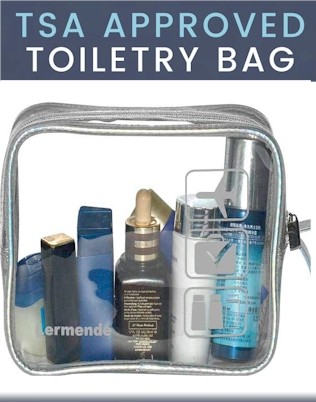 "What will Yogi eat?" was a common theme in these arguments. Political cartoonists evoked Yogi again during the 1988 fires here in Yellowstone.  One such cartoon from the Casper Star Tribune, dated August 5 1988, shows the fire encroaching on a cave. On the cave hangs a sign, "Yogi Bear Jellystone Park", while two pairs of eyes peer out.
I prefer to call out, "Hey Yogi!"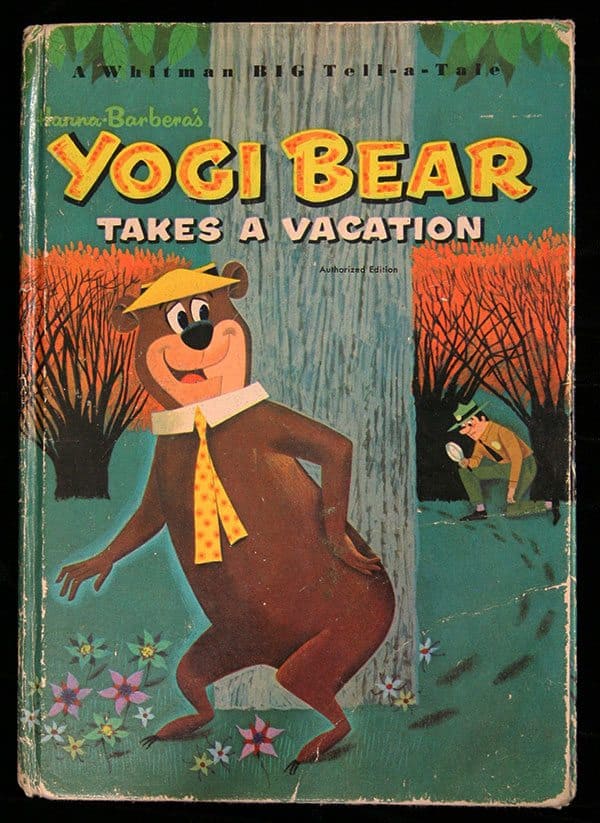 ---
Related Post & References