How is Public Transport in Vienna 2021?
The public transport network is wide, fast, clean and extremely punctual. Includes subway (U-Bahn). tram (Strassenbahn), S-Bahn (fast train), Taxis and Bikes
Tickets, in any of their modalities (single, 24-hour, weekly, monthly, etc.) give the right to travel by metro (U-Bahn), tram (Strassenbahn) and bus. They can be bought at metro stations, at some tram stops, from the bus driver (only single and more expensive tickets) or at kiosks that are usually close to the stops.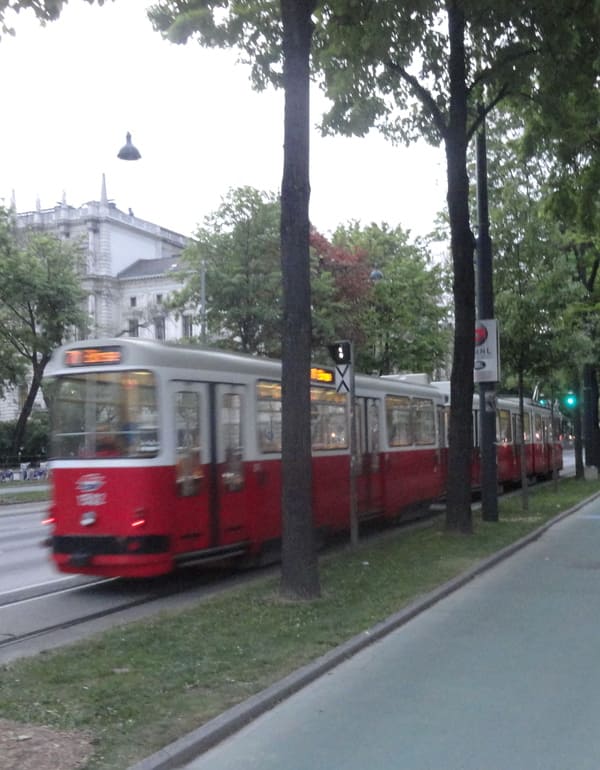 Validation of Tickets and Fines
For the ticket to work you have to validate it in the machines that are in the stations or inside buses and trams. If a conductor finds you with the unvalidated ticket, you will have to pay a fine. The trust that the company (Wiener Linien) places in its Viennese customers is striking, since this, that of sporadic reviewers, is the only control that exists over who uses its transport network.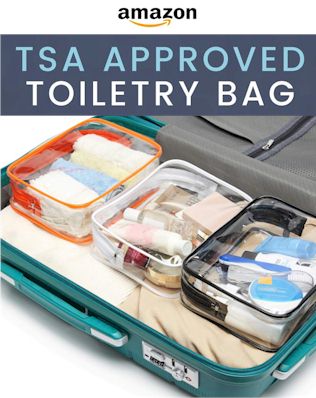 To decide which ticket is best for you, try to think about what plans you have and where you are going to move. The single ticket is seldom profitable, since if you make three trips in one day, it is already worth buying the 24-hour ticket. If you are going to spend a long weekend in Vienna, it is best to take the three-day one (or the Vienna Card, which includes free tickets to the most important museums).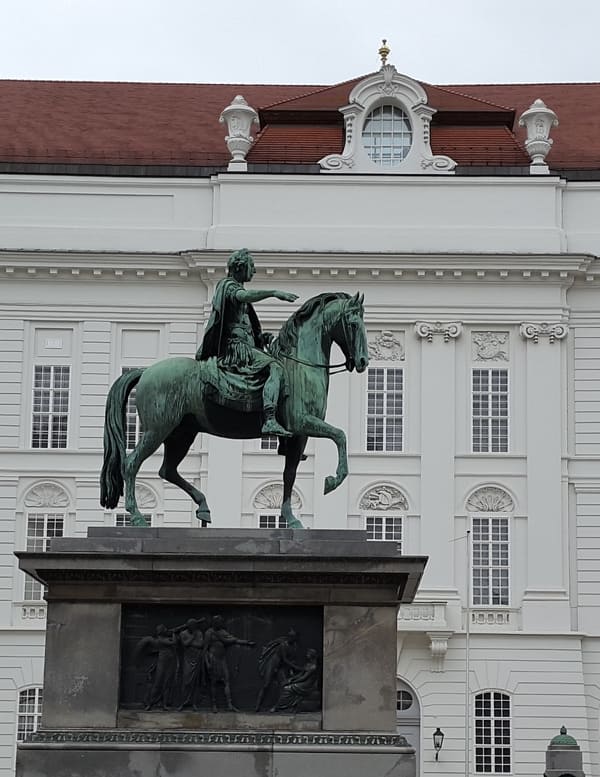 If you are going to take the weekly, you have to keep in mind that it is from Monday to Sunday, and not a week from the moment you validate it. The same thing happens with the monthly tickets, which are valid for the entire month from the 1st to the 30th, and not for any 30 consecutive days.
Which Means of Transport to Choose in Vienna?
When choosing whether it is a metro, bus or tram, the only thing you have to think about is which combination works best for you to reach your destination. You can check the lines on maps, but a simple and practical way if you have Internet access is to check it on Google Maps before leaving home.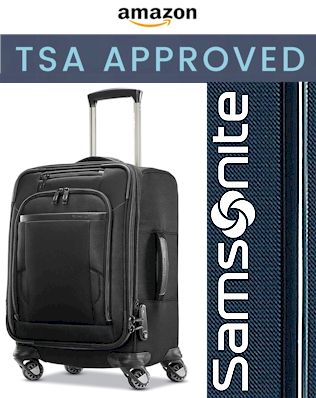 By entering origin and destination, and choosing the public transport option, the different alternatives will appear with their respective schedules (the information is totally reliable).
What is the operating hours of the transport network in Vienna?
The network works between 5 in the morning and 12 at night, but moving during those five hours in which the metro is closed and there are no trams is not complicated either. The night buses (NightLine) cover the whole city quite well. In any case, it is better to find out before leaving home about where your nearest stop will be, which line is best for you to return home and what schedule it has (they usually pass every half hour), so you will avoid long waits surrounded by wind and snow.
The stop in front of the opera is a meeting point through which almost all lines pass. If you haven't been able to buy a ticket before, don't worry. On the night line, the reviewers are not there to issue fines, but to sell tickets.
Tram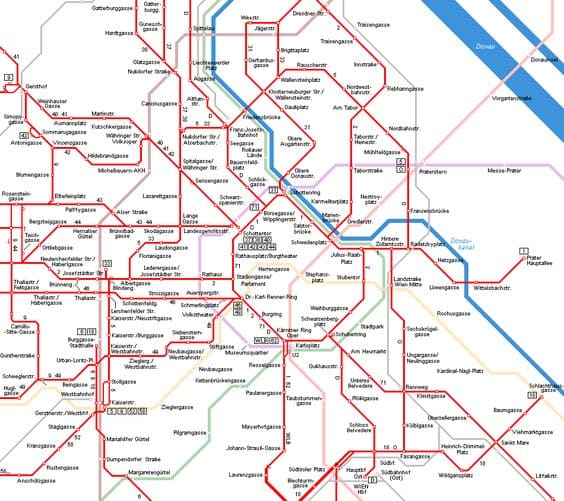 U-Bahn Metro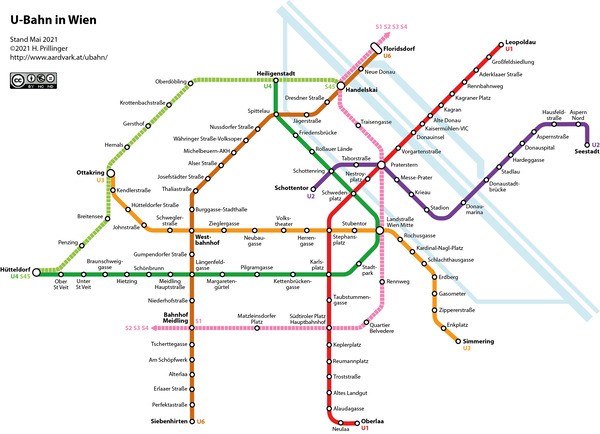 S-Bahn
Another possibility of transport is the S-Bahn (fast train), quite comfortable for somewhat longer distances or to reach the outskirts. The ticket is the same, but be careful not to leave zone 1, since in that case you will have to buy a more expensive ticket. Line S7 is the one that goes to the airport. They will try to sell you at various times that you take the CAT train, but try to avoid it. The journey is much more expensive and only 5 minutes faster.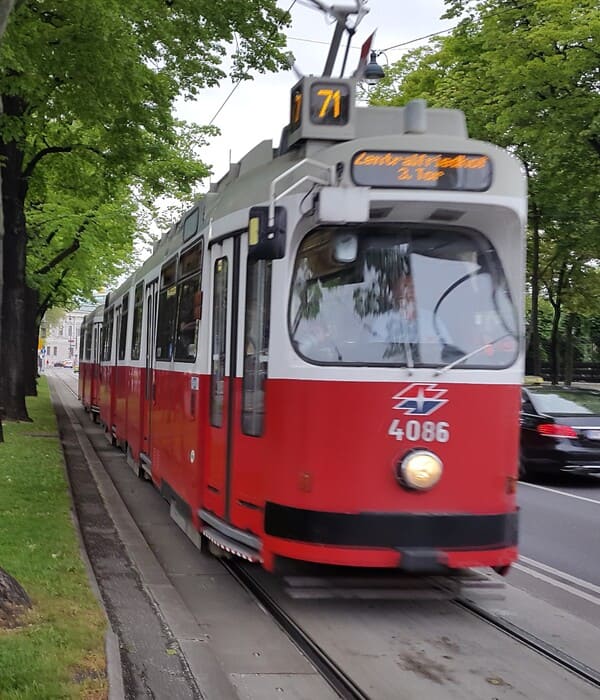 Taxis.
Unlike in many other cities, taxis in Vienna are a fairly reliable means of transport. They respect the established prices very much and rarely go around the corner to increase the mileage. Currently there are already many who go with GPS, so it is easy to follow the route. If they miss a detour, they turn off the meter and do not turn it on again until they are back in the place where they made a mistake. The easiest thing is to catch them at taxi stands or by calling, but there are usually no problems finding one that will stop you on the street.
Transport in Vienna 2021: Bike
One of the best ways to get around Vienna is by bike. There are bike lanes on almost every street and, where there is none, it is usually not dangerous since cars are used to cyclists and respect them. The city has a bike rental system (CityBike) with stations in the most important points of Vienna where you can pick up or leave bicycles. It is recommended because it is almost free, but the bikes are pretty bad. If you are going to be in Vienna longer, it is best to buy a second-hand bike and sell it again when you leave.
How to get to Vienna
From NYC or any city in the United States there are direct flights to Vienna – Austria by both American and foreign airlines. remember to comply with the TSA liquids Rules when traveling. I could also contract the TSA Precheck membership for greater convenience and speed. End Transport in Vienna 2021.