Oldest Coffee Shops in The World
These Coffee Houses exist today. All are old, some more luxurious than others. Some true works of art. Others have a lot of history. They met writers, politicians, revolutionaries. Conspiracies were forged. Everyone has coffee in common.
Having a coffee in these places is sharing it with Dante, Casanova, Dickens, Danton and so many other characters in History. Maybe some of them are there. Sharing a coffee in any of its forms. Visiting these places is living history with a coffee in hand.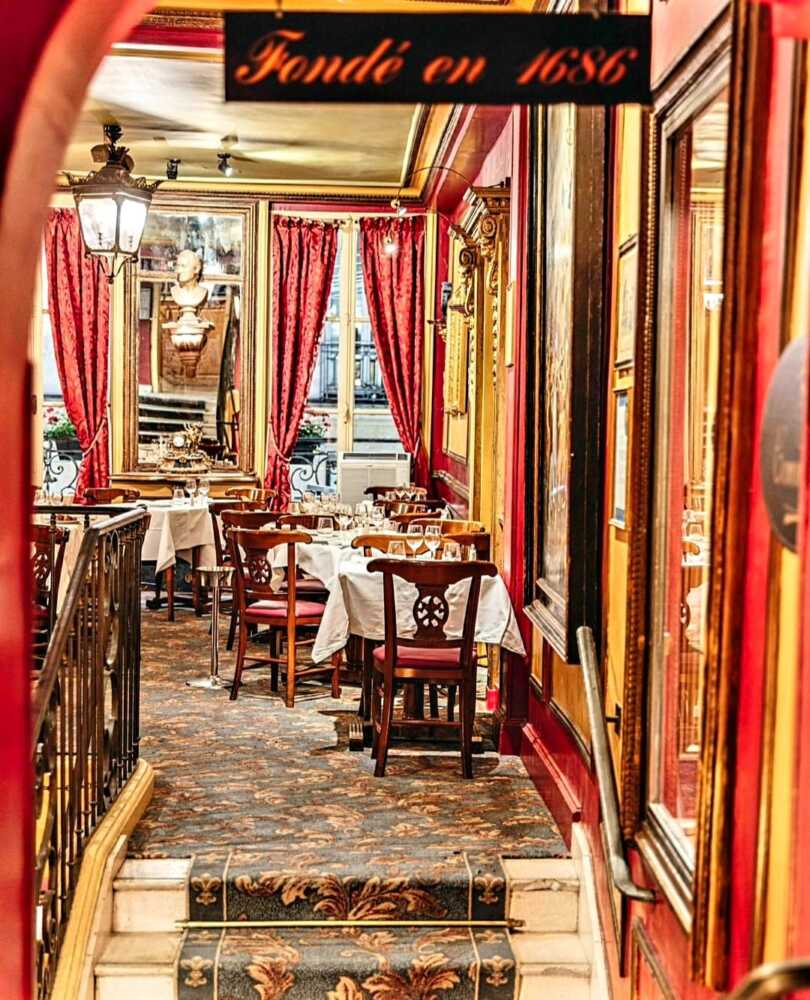 Café Procope – Paris – 1686
In 1686 when Louis XIV reigned over France from the palace of Versailles, in Paris the Cafe Procope opened its doors. Just 20 years after the introduction of coffee in the court of Louis XIV.
An Italian named Francesco Procopio Dei Coltelli opened an establishment near Saint-Germain-des-Prés where this infusion would be tested in society. The establishment was opened to sell coffees and ice cream, specialties that the Italians exported to the main European capitals.
It is the oldest coffee house in the world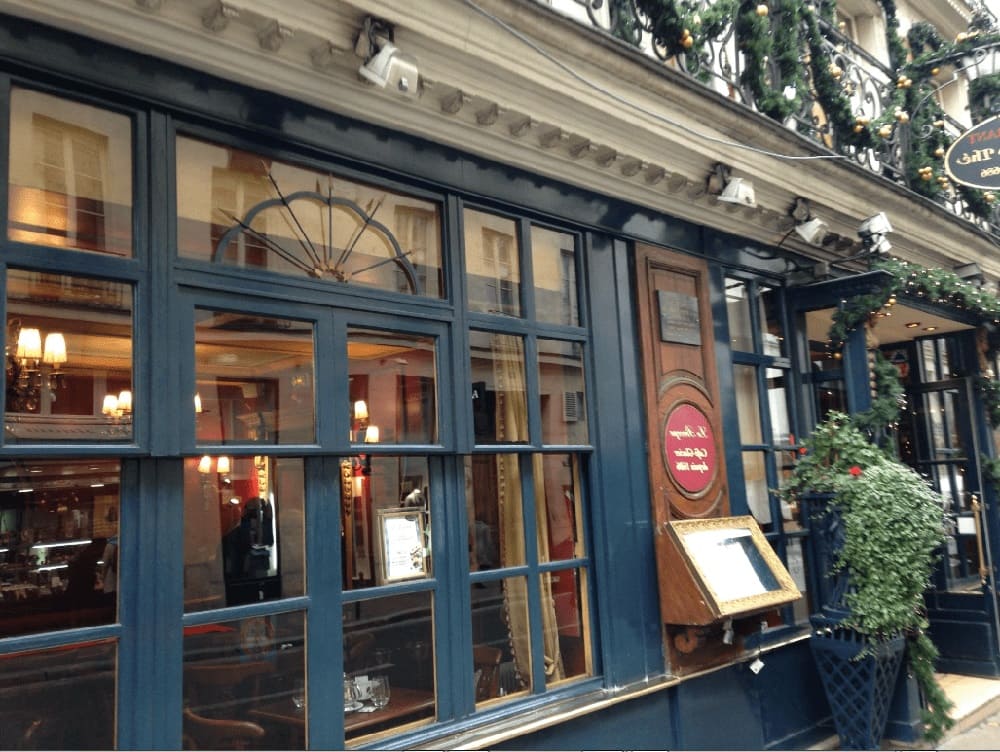 The Cafè Florian inaugurated it in 1720 rl Mr. Floriano Francesconi. The original name was "Alla Venezia Trionfante" (Venice the triumphant). The name change occurred when Napoleon Bonaparte invaded the city. The owners of that time put the name of the founder FLORIAN. Notable people, like Goethe and Casanova were regulars. Especially because it was the only Coffee House that allowed women. Lord Byron, Marcel Proust and Charles Dickens were also frequent visitors. It is one of the most oldest coffee shops in the world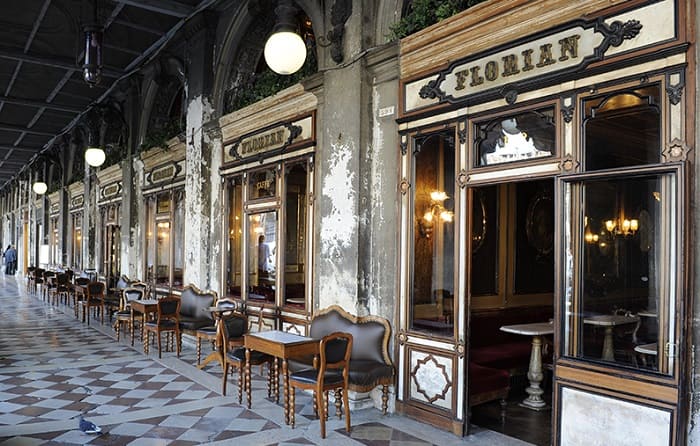 Café de Flore
Café de Flore is a café-brasserie located at 172 Boulevard Saint-Germain, in Saint-Germain-des-Prés, in the 6th Arrondissement of Paris, France.
It was founded at the time of the Third French Republic, in 1887. It owes its name to a statue of the goddess Flora, now disappeared, on whose location there is no agreement. For some, it was on the other side of the boulevard. But according to Charles Maurras, who founded the far-right newspaper Action Française on the first floor of the café in 1908, the statue stood above the main entrance.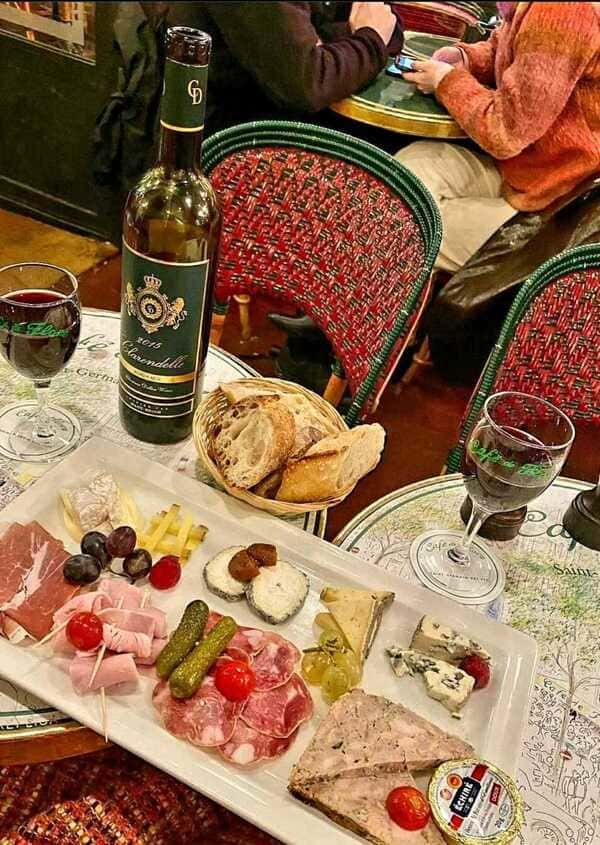 Café Colombo – Rio de Janeiro
Portuguese immigrants Joaquim Borges de Meireles and Manuel José Lebrão founded this Coffee House in 1894. Its architectural style is Art deco. The rooms renovated with Art Noveau style with mirrors brought from Antwerp. The wooden furniture is from the artisan Antônio Borsoi. It is located at Rua Gonçalves Dias, 32 • Centro – Rio de Janeiro / RJ.
The oldest coffee shops in Brazil. Also the most luxurious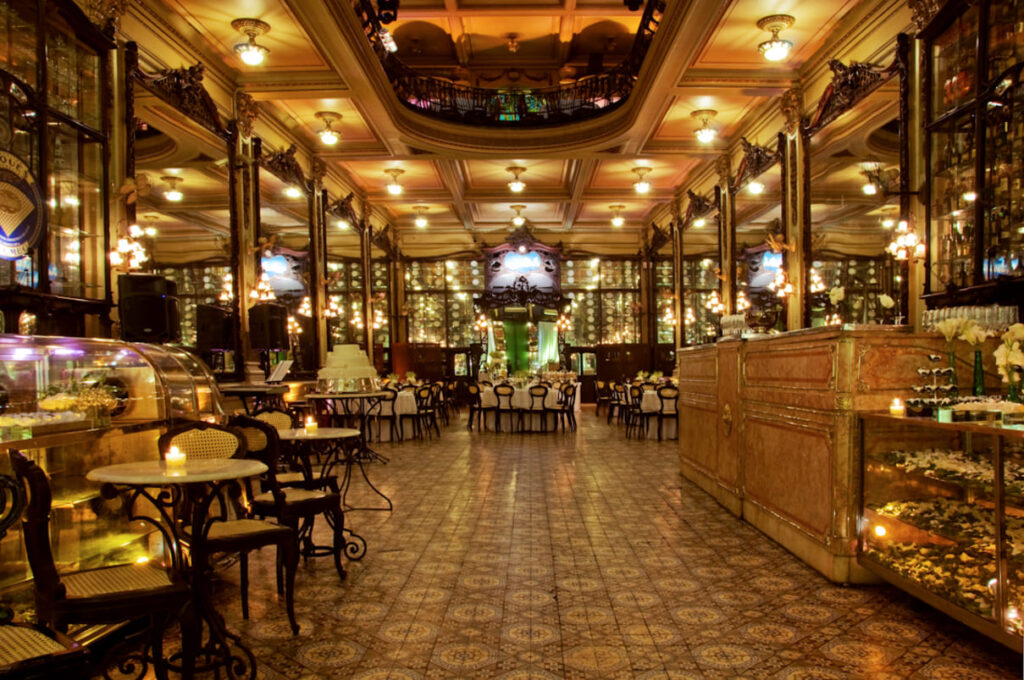 The New York Life Insurance Company built a luxurious building in the early 1890s. It was located in Erzsébet körút 9-11. It is the VII district of Budapest (Erzsébetváros).
In the basement of the building is the Coffee House New York. It was inaugurated on October 23, 1894 and survived two world wars and the Communist regime without major damage.
After a restoration process initiated in 2001, the coffee was reopened again on May 5, 2006. It is one of the most luxurious coffee shops in the world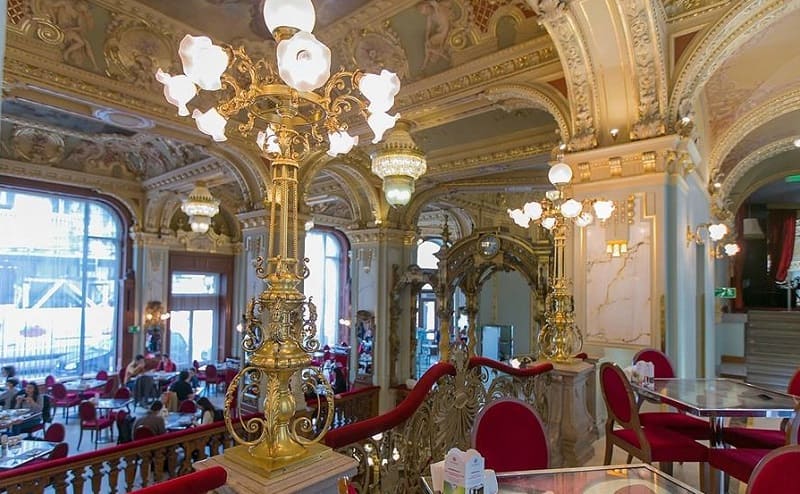 The Coffee shop Majestic located in Rua de Santa Catarina # 122, opened its doors in 1921 with the name of "Elite". It was designed by architect Joao Queirós inspired by the work of maestro Marques da Silva. At its inauguration attended all the personalities of the political and artistic world.In 1922, the name was changed to the current one. Art Deco style was one of the most luxurious places in Oporto. The marble facade is adorned with plant motifs of sinuous shapes. A trio of charming columns marks the facade. It is one of the best Decorated coffee shops in the world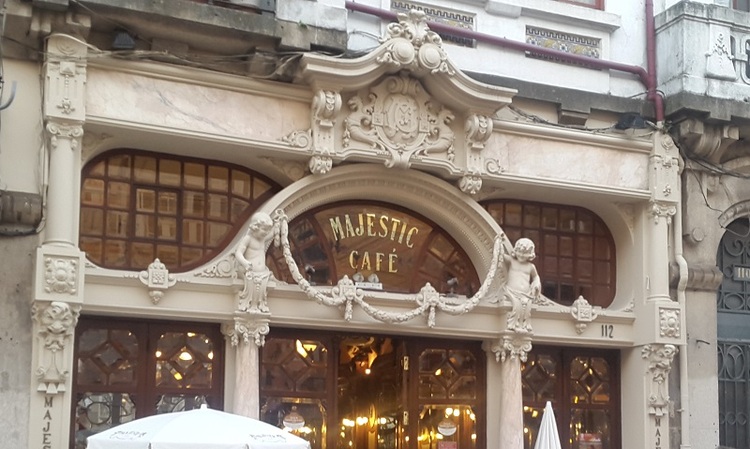 Maybe you're interested too